Geoffrey Jellicoe: landscape and environmental planning for Loch Kishorn Oil Rig Yard
The Howard Doris Oil Rig Yard on the north shore of Loch Kishorn operated from 1975 to 1987. After seeing an earlier planning application for a yard at Drumbuie fail, the developers appointed Geoffrey Jellicoe as their landscape architect. The yard was used to build what was then the largest movable object made by man: the Ninian Central Platform.  As soon as they obtained planning permission, the developers terminated their arrangement with Jellicoe. Parts of the site remain in industrial use by another company. This is a pity but it remains an important example of Environmental Impact Design. Though produced at speed, Jellicoe's design was simple, logical and economical. The planners who should have secured its adoption were gutless.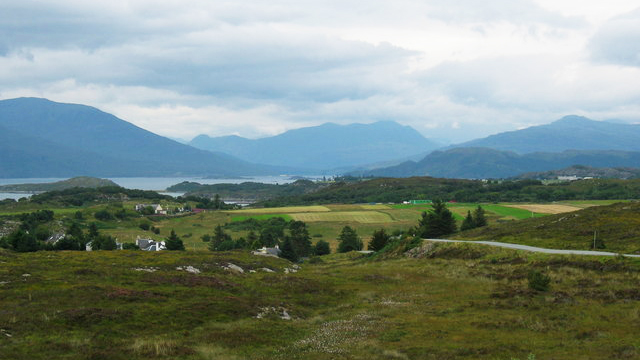 Drumbuie, on the south shore of Loch Carron, was proposed by Mowlem and Taylor Woodrow as the site of a oil rig construction yard. The application was lost after the longest planning inquiry in Scottish legal history
Jellicoe's diagrams show a simple proposal for screening the works during the period of operation and then for clearing up the site. I remember him making two points about the scheme in a lecture
his role

was  only to do the best possible job for the local landscape

then

, it was for other people to decide whether or not the yard should go ahead
In response to a question he commented that although a relatively small number of people visit Loch Kishorn each year, a great many other people 'know it is there' and value its pristine beauty.
Local residents had differing opinions. People born in the area were generally in favour of the yard because it provided additional jobs and income. Newcomers, known locally as 'white settlers', were against the development because it was the opposite of what had attracted them to Loch Kishorn. This raises the interesting question of who should have the loudest voice in the development of wild places:
Local residents?

The local council?

Or the people of Scotland? Or the world?
I don't know. But the best thing would be for them to reach an agreement. And in my view, the outcome would  have been much better if the implementation of Jellicoe's ideas had been a planning condition. Improving the environmental impact of a development is just as important as assessing it.
See also: more Geoffrey Jellicoe videos