London cycle maps, mapping and cycling routes
London's printed cycle maps is chaotic, contradictory and useless.
The problem began when they started signposting 'cycle routes' instead of 'cycle facilities'. Mostly, the 'routes' were just plans for getting cyclists out of the way of motorists.  The law is of course that except were specified (eg motorways) every road is a cycle route.
The agencies which provide cycle mapping for London include the Boroughs, Sustrans, Google Maps, Transport for London and the many apps and websites which use Openstreetmap data. They all  show 'routes' instead of cycle paths, lanes. or other physical facilities. In Switzerland most of these routes would be classified as 'Dangerous roads with heavy traffic'.  List of 18 London cycling posts and videos.
Borough maps are often comprehensive but they're of little use to cyclists because they map too many routes with no facilities. They only cover a single Borough and they are produced in different formats.
Sustrans are mostly interested in mapping routes they have helped plan. Googlemaps show Sustrans routes. TfL's mapping policy is unfathomable. They publish paper maps and show recommended routes online: after planning a journey see the bottom section of the TfL Journey Planner 'Cycling and other options' ).  On its paper maps TfL show many routes but not all routes and they use an A-Z basemap instead of an Ordnance Survey basemap. For the journey from Blackheath Station to Canary Wharf  TfL does not recommend Greenwich Park (which is the route all local cyclists use) and does recommend its own Olympic Route on the Isle of Dogs, which is horrible.
All the cycle maps produced by public bodies are outclassed by maps based on copyright-free open data. The Openstreetmap is 'the Wikipedia of mapping'. Like Wiki, it has masses of good information and some oddities. The mapping is freely available as an open source database produced by volunteers and used to generate electronic maps. Anyone can code a stylesheet which will use the database to render a specialised map. Different search criteria generate different maps. Andy Allen has done a very good job for cyclists, resulting in the OpenCycleMap.
The signposting of cycle routes raises two issues.
there is absolutely no point in it, unless it's sufficiently well done for cyclists to follow the route without a map.
there is absolutely no point in mapping or signposting routes which are so awful that no cyclists use them
there is absolutely no point in signposting routes unless the signage is maintained and kept up to date. Routes change more often than paper maps.
So what's the solution to the mapping and signposting problem? Public authorities should do four things
They should place route data in the Openstreetmap, as well as maintaining their own mapping
They should expect cyclists to use digital maps on their mobile devices, rather than carry paper maps in their pocket.
They should concentrate on signposting facilities that have been provided for cyclists, instead of waymarking idiotic 'routes' which cyclists scarcely use
They should desist from insulting cyclists by signposting dangerous routes: heavy traffic, lots of junctions and lines of parked cars are not what cyclists want or need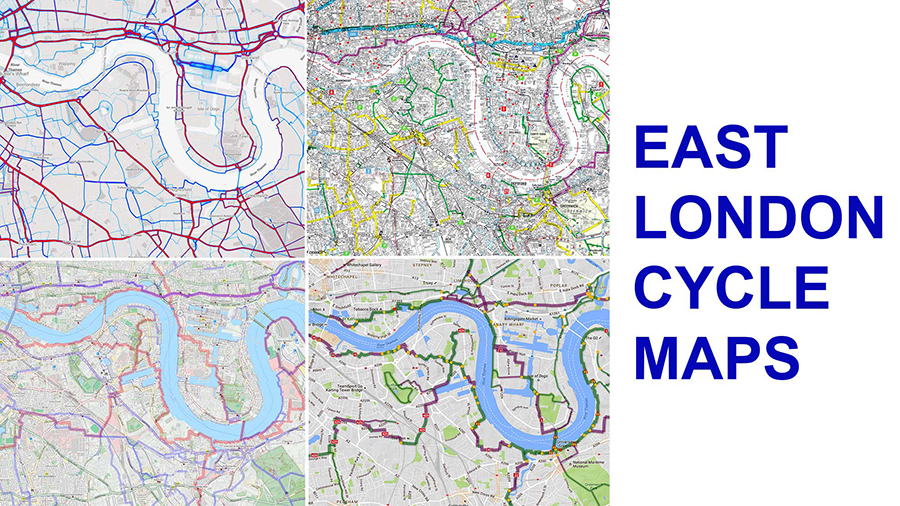 Strava's Global Heat Map is a byproduct of its mobile app. Data is collected from cyclists who use the app. The user group is estimated to be 10% of London's commuter cyclists. Though a vast sample, it is not a representative sample. Strava users tend to be young, male competitive cyclists. That said, the Strava map is the best available data on the relative intensity of cycle traffic in London.