London landscape and open space planning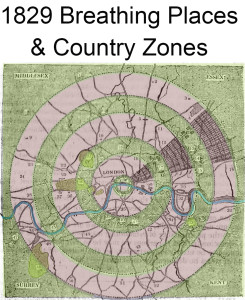 The LAA website provides an outline of the history of London open space and greenspace planning with free downloads of past examples. It is an important subject. But the lack of agreement the best name for this type of plan has resulted in conceptual confusion. Some of the names which have been used are listed below, with comments on their origins. The aim is to stimulate a debate on 'What are we trying to plan?'
Breathing Places and Country Zones for London
These were the names used by John Claudius Loudon in his 1829 plan and were slightly modified by Ebenezeer Howard in 1898. In a chapter on Social Cities, Howard wrote that 'the new town may have a zone of country of its own'. Frederick Osborn, in a later introduction to Howard's book, wrote: 'Country Belt, Agricultural belt, Rural Belt. These terms are synonymous. They describe a stretch of countryside around and between towns. separating each from the others, and predominantly permanent farmland and parkland, whether or not such land is in the ownership of a town authority'. Howard was widely read, and did not give us his sources, but it is probable that Olmsted's Boston Emerald Necklace was among his sources and this idea certainly influenced his successors. It was a plan for inter-linking parks with green corridors. Download a free pdf copy of John Claudius Loudon's 1829 Breathing Places for the Metropolis – a landscape architecture and open space plan for London.
See also: origins of the green belt idea.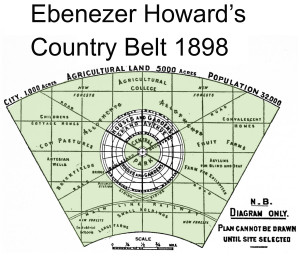 Green Belt and Green Girdle for London
Osborn explains the term:  'Green Belt. Originally used by Unwin as a further synonym for Country Belt, this term has also been applied, thus far confusingly, to a narrow strip of parkland more or less encircling part of a built-up metropolitan or large urban area. Park Belt is a better name for such a strip'. Raymond Unwin also used the term 'Green Girdle' and proposed what was, as Osborn states, a belt of publicly owned parkland forming a ring round London.
Park System and Open Space Plan for London
Patrick Abercrombie drew on Howard's, Unwin's and Olmsted's ideas for the 1943-4 County of London Plan. Chapter 3 has the title 'Open Spaces and Park System' and proposed a Green Belt round London with a network of green links to connect it to central London. Though flawed, it was a truly great vision.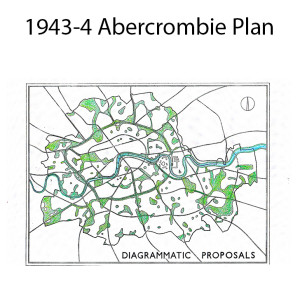 Green Web, Greenway Network and a Green Strategy for London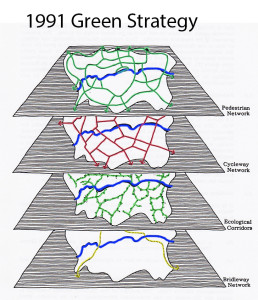 Between 1990 and 1992 I wrote a report for the London Planning Advisory Committee with the title Towards a green strategy for London. The word 'green' was used in two senses: (1) to mean vegetated, as in 'Green Space' (2) to mean environmental, as 'Green Party. The report was accompanied by an article (in the Town Planning Review on 'Open space planning in London: from standards per 1000 to green strategy') which argued that the modernist target of providing '7 acres of open space per 1000 people' was of no value beyond the simple point that 'it is good for cities to have more public park space'. One of the recommendations was that because most people now have sedentary jobs there should be an emphasis on planning greeways as routes which are good from an environmental point of view.
All London Green Grid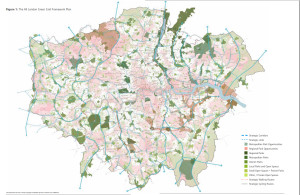 Without having done enough research to be sure, I believe the introduction of the term 'Green Grid' to London open space planning came from John Hopkins. My source for this information is a conversation when John was a partner in a landscape architecture firm, LDA Design. John had been studying in America and may have borrowed the term from ecologists. He liked the idea of giving an ecological dimension to London open space planning  and used the term when developing the East London Green Grid.  It combined ecological, visual and recreational objectives. Always generous, John told me, when walking along a corridor, that 'the ideas came from your books – keep on producing them!' I did not press him for details, and had never used the term 'green grid', but guess John was referring to Chapter 4 of Landscape planning and environmental impact design (1998).  The Green Grid idea was taken further by the Greater London Authority and, under the leadership of  landscape architect Jamie Dean, became the All London Green Grid. It is the most far-reaching public open space plan London has had since 1829. 'Public open space' can be defined as amenity land which has public access and is not built up.
London Landscape Planning
All the terms discussed above have value and I hope they will remain in use for explaining the ideas to community, professional  and political groups. But the components need more conceptual clarity and this may be achieved through their integration as a London Landscape Plan. The following account of what I have in mind is edited from Chapter 2 of Landscape planning and environmental impact design (1998),
Landscape plans deal with environmental public goods and should guide the process of planning and design for the conservation and improvement of environmental public goods. These goods can be placed in three groups: Natural, Social, and Visual.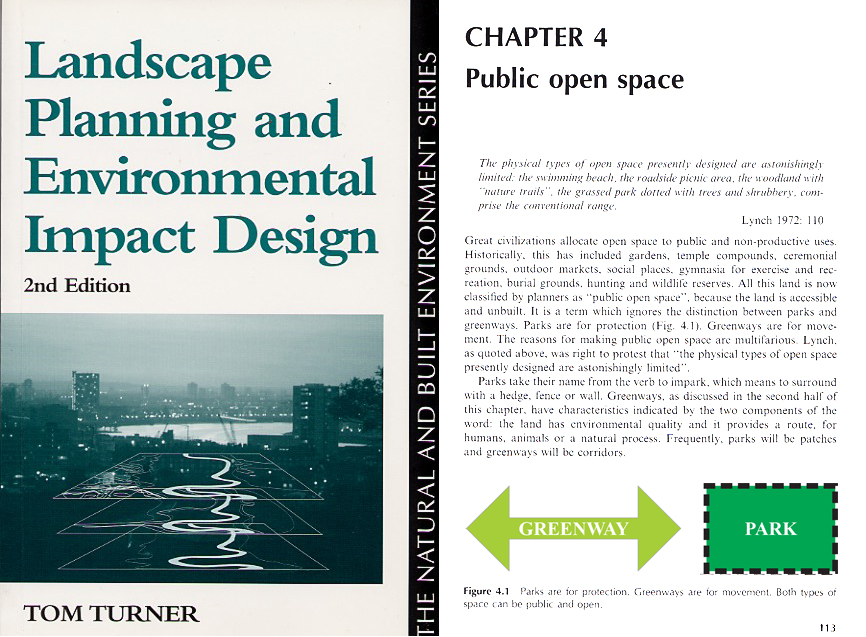 NATURAL PROCESS LANDSCAPE PLANS
Landform Plans: to protect and enhance a distinctive and convenient landform.
Waterspace Plans: to provide space for water storage, water transport and water recreation.
Habitat Plans: to protect and enhance the pattern of natural and semi-natural habitats.
Air Plans: to provide fresh air, clean air and shelter.
SOCIAL PROCESS LANDSCAPE PLANS
Greenspace Plans: to provide public access to environmentally good space in urban and rural areas.
Special Area Plans: to protect and create areas of special character.
Recreation Plans: to increase opportunities for outdoor recreation: footpaths, bridleways, cycleways, campsites, food gathering places.
Sustainability Plans: to make human life more sustainable, both in town and country.
VISUAL LANDSCAPE PLANS
Scenic Plans: to protect and create good scenery and good views, both in town and country.
Spatial Plans: to protect and create good spatial patterns.
Skyline Plans: to protect and create good skylines.
Urban Roofscape Plans: for skylines, vegetation, habitat creation and recreation.
Landscape architects have a leadership role but many other professional skills and responsibilities are involved.