If you would like to do an assessment of NCN13, please retain your impartiality by doing the assessment before reading the post or watching the video.  List of 18 London cycling posts and videos.
DIRECTNESS

0

SAFETY

0

COHERENCE

0

COMFORT

0

ATTRACTIVENESS

0

National Cycle Route 13 is planned to run from London to Norwich. This video follows the section from Tower Bridge to Limehouse Basin. I like it. Though you do feel as if you're being allowed to cycle on a route which was designed in part for cars and in part for pedestrians. A surprising 56% of it runs beside water and most of the route is segregated from motor vehicles. Scenic and environmental conditions are good – though a fair-bit of the track is cyclist-unfriendly. It goes through the area which used to be called London Docks and looking for surviving fragments is fun. This part of docklands was used for luxury goods, like tobacco. It would have been a good place for a ship museum.
The first section, beneath the Tower Hotel, is the worst section, and a reminder that the hotel has been voted London's ugliest building. Twice. Cycling on the waterfront would be much pleasanter – but obviously can't be done when it's busy with pedestrians.
St Katherine's Dock takes its name from the medieval church which was destroyed to build the dock – to a design by Thomas Telford. After it closed, in 1968, the dock became a commercial success for the first time, and set the standard for docklands redevelopment after 1981. The planners completely ignored cyclists. Retrofitting of a cycle network has taken place but there is more to do.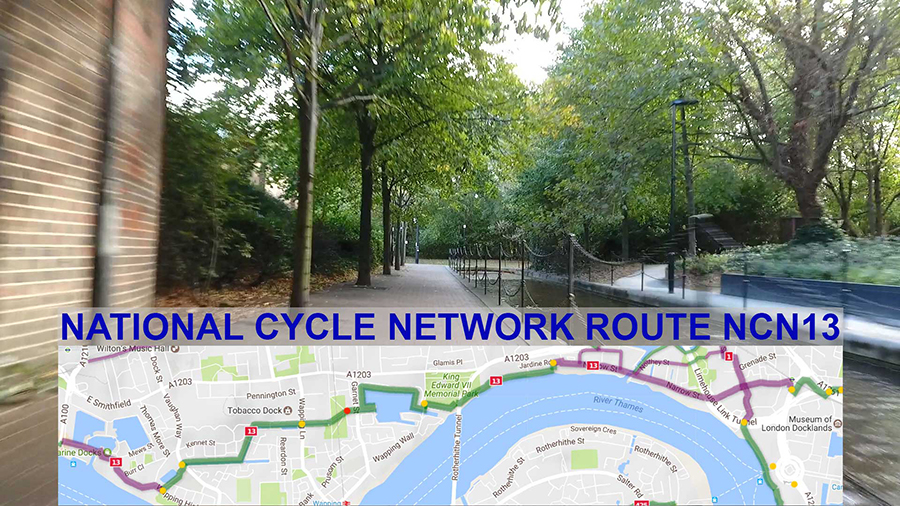 NCN13 goes through the old London Docks, making use of  the Ornamental Canal – a waterside greenway designed in the 1980s