Cycleways
See also: blog posts about cycleways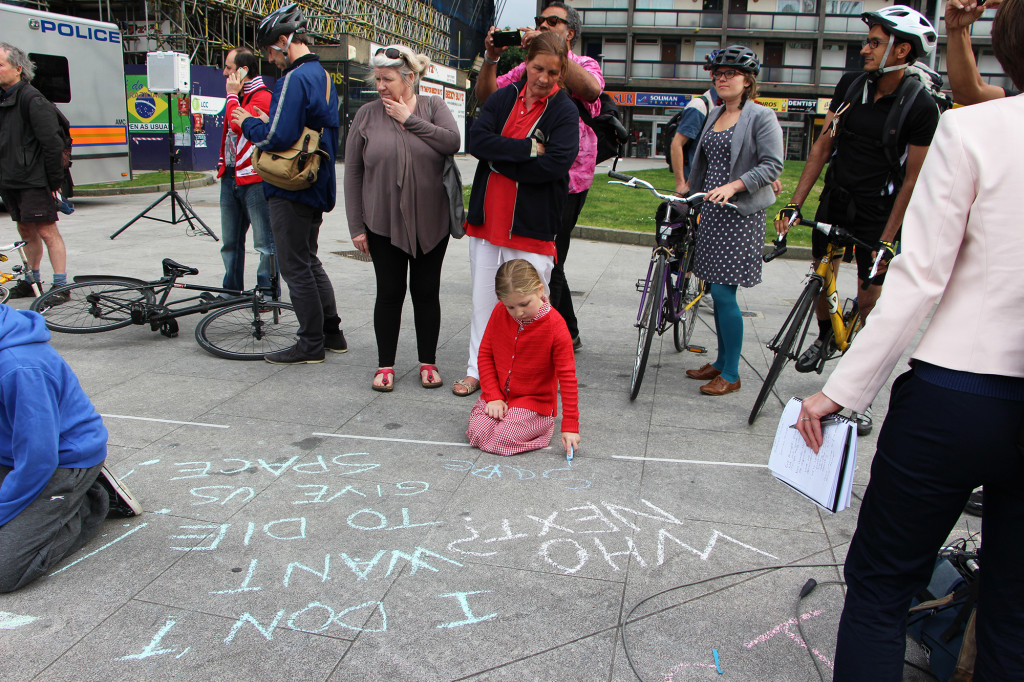 Just as buildings should be designed by architects with help from engineers, cycle paths should be designed by landscape architects with help from engineers. This is the only way to get cycle paths which are delightful, safe, and a contribution to the urban landscape.
See LI_London_Branch_response_to_TfL_Cycling_Grid
City Cycling Info Sources and Statistics:
For information about cycling generally see the Dutch Cycling Embassy which is sponsored by the Dutch FietsberaadCROW and it is worth also looking at their knowledge centre or kenniscentrum (accessed 2.8.2015)
Similar is the Danish Cycling Embassy see http://www.cycling-embassy.dk/ (accessed 2.8.2015) and is in German, Spanish, French as well as Danish and English. It has useful cycling statistics for Denmark and Danish cities http://www.cycling-embassy.dk/facts-about-cycling-in-denmark/statistics/  (accessed 2.8.2015).
World-wide
City Block Magazine has coverage of 700 cities with modal transport share world-wide http://www.cityclock.org/urban-cycling-mode-share/  (accessed 2.8.2015), though with a heavy European and North American emphasis. It does not list Moscow or Istanbul and has rather dated figures and the sources of the figures are not given. Groningen is given as the highest cycle usage with a high of 55% followed by Greifswald at 44% then Lund at 43%.
Europe
For statistics of bicycle use in European capitals see the European Cycling Federation (accessed 2.8.2015), though some of the figures are rather dated (e.g. a 2% modal share of all journeys in London dates from 2009). This shows a 35% modal share in Copenhagen (2010 figure) and 32% share in Amsterdam (2012 figures).
The figures for Europe's two largest cities, Istanbul and Moscow make dismal reading. In Istanbul the cycling modal share is 0.05% according to Haluk Gerçek who is a Professor of Civil Engineering at Istanbul Technical University writing in 2009, https://lsecities.net/media/objects/articles/is-there-a-road-ahead/en-gb/. Another authoritative paper by Malk Hennig Sustainable Urban Mobility The Example of Istanbul Case Studies in Sustainable Urban Transport, no. 3 was published by the Deutsche Gessellschaft für Internationale Zusammenarbeit and the Federal Ministry for Economic Cooperation and Development, Bonn (2011) see http://www.sutp.org/component/phocadownload/category/71-cs3?download  This also gives 0.05% for cycling's modal share in Istanbul.
The only figure for Cycling in Moscow, that we have found is a 0.04% modal share in Marcel Roethig and Darya Efimenko, Changing Urban Traffic and the role of bicycles, Russian and International Experiences  in the conference proceedings of  the international conference St Petesburg, May 2014. See  http://deu.fesmos.ru/netcat_files/userfiles/36/FINAL%20FES_A5_Broshure_Bike_en-preview.pdf
England
Since 2011/12 there have been annual surveys of cycling and walking in England published on https://www.gov.uk/government/collections/walking-and-cycling-statistics the latest figures for 2013/14 show "For the proportion of adult residents who cycle at least once per month, London has shown a significant decrease in cycling, over the 4 years from 2010/11 to 2013/14,  from 15.7% to 14.2%."
London
London's cycling is surveyed annually by Transport for London, TfL (a Greater London Council agency) see TfL Travel in London Report 7", (2014), p101. https://tfl.gov.uk/cdn/static/cms/documents/travel-in-london-report-7.pdf This shows a modal share for cycling of 2% which is hardly impressive.
This is despite the London Mayor's Vision for Cycling in London. http://www.london.gov.uk/sites/default/files/Cycling%20Vision%20GLA%20template%20FINAL.pdf
Cycling in London is predominantly an activity for younger male adults, ("males aged between 25 and 44 currently account for 48 per cent of all cycling trips" TfL Travel in London Report 7", (2014), p.4). This is underlined by the cyclist mortality rates for 2015, from January until June there were eight deaths, of whom six were female. Females don't jump red lights and consequently are killed by HGVs turning left because the cyclists are in a blind spot.
It will be interesting what affect the two "superhighways" with reserved lanes, one east-west and the other north-south, are completed in  March 2016 and also the results of three outer London boroughs, Enfield, Kingston and Waltham Forest, will undergo radical transformation through the 'Mini- Hollands' programme to make them as cycle-friendly as their Dutch counterparts.