London Open Space and Greenspace Planning
See also: blog posts about London Green Belt, Landscape and Open Space Planning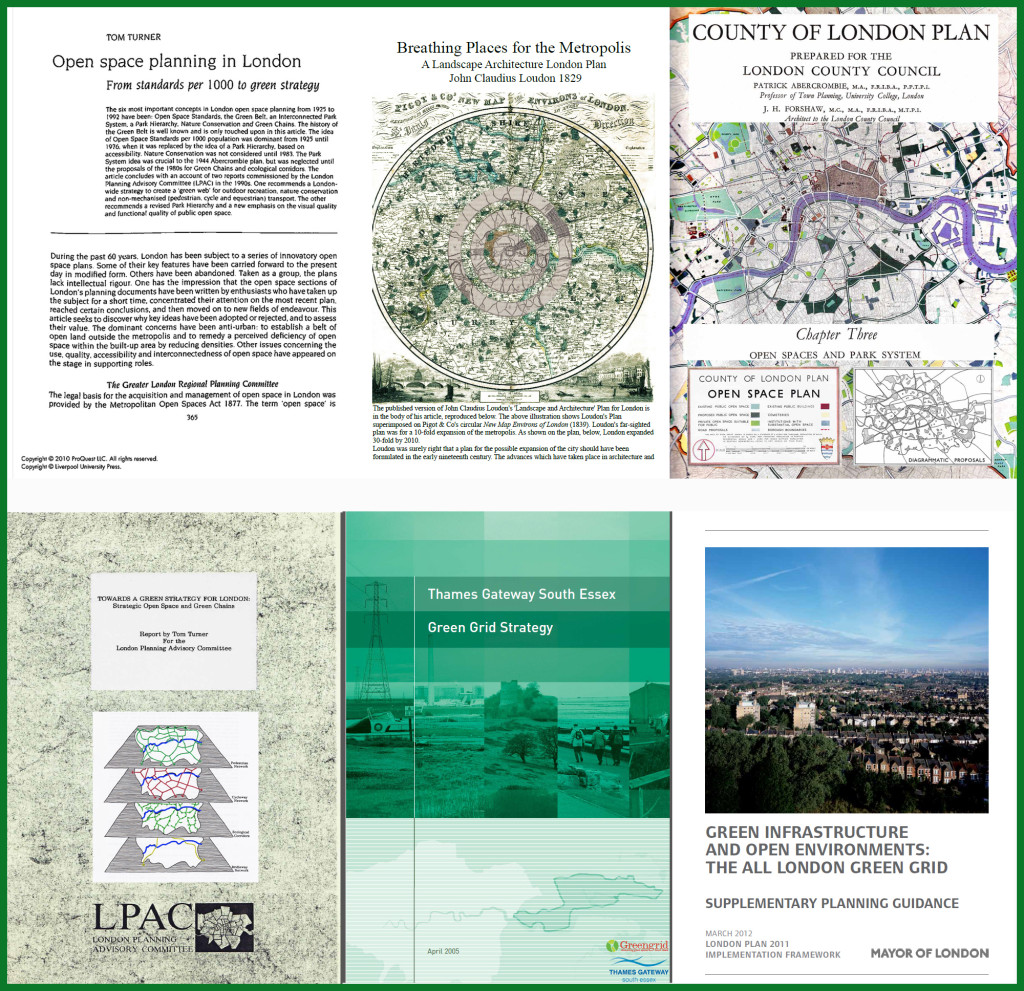 Reports on London landscape, open space, greenway and green infrastructure planning
Significant dates in London POS Planning
1491-1547 as King of England, Henry VIII acquired the land which subsequently became London's central Royal Parks
1625-1649 as King of Britain, Charles I began the conversion of Henry VIII's deer parks into amenity open space
1660-1685 as King of Britain, Charles II allowed public access to London's central Royal Parks
1829  John Claudius Loudon's Breathing Zone plan for London
1833 Select Committee on Public Walks recommended public parks
1890 Lord Meath proposed a green belt to the London County Council Parks and Open Spaces Committee
1901 W.J Bull proposed a green girdle round London
1929   Raymond Unwin's Memorandum No. 1, which formed part of the First Report of the Greater London Regional Planning Committee, included a plan for a Green Girdle round London
1943  Abercrombie's County of London Plan recommended a continuous web of open space linking the city centre to a green belt
1951 The Administrative Country of London Plan concentrated on the concept of Open Space Deficiency and adopted, as a standard, four acres (1.62 ha) per 1,000 population plus three acres (1.21 ha) outside the Administrative County
1969 The Greater London Council (GLC) adopted the principle of London having a hierarchy of parks of different sizes, ranging from local parks to regional parks.
1976 The final draft of the Greater London Development Plan (GLDP) supported the Green Belt and approved the concept of Metropolitan Open Land
1991-2 A London Planning Advisory Committee (LPAC) document, Towards a Green Strategy for London,  supported the 1943 concept of open spaces being linked into a Green Web and recommended the circular walks which became the Capital Ring and the London Loop
2004 The Greater London Authority's 2004  GLA London Plan carried previous initiatives forward and introduced policies for Biodiversity and for developing London's rivers as 'Blue Ribbons'
2009 The Draft London Plan carried forward previous initiatives and introduced a Cycling Strategy, a Walking Strategy and a Green Grid Strategy.